Welcome to the DFW Auburn Club - Website!
---
Home of the Dallas - Fort Worth Auburn Club
---
DFW Club Wins award at Annual Auburn Alum Conference

Congratulations to the Auburn Young Alumni of Dallas Affiliate of the DFW Auburn Club for winning the overall award for the Most Outstanding Young Alumni program this weekend at the Auburn Alumni Association Annual Conference. This marks the second year in a row that the Young Alumni of Dallas as taken home an award. The DFW Club is proud to have such an outstanding group of young leaders that are fostering the Auburn Spirt thru regular activities and continuing to grow a strong membership. Pictured below are Nathan Scott, Anna Lee Alford and Cameron Fulton who attended the event and are instrumental in our Clubs growth the past several years.
In addition to winning the award for Most Outstanding Young Alumni Program, the efforts of the Young Alumni in the DFW Club helped build our overall Club from a Tier Three program to a Tier Two program in 2017. We intend to top that by becoming a Tier One group in 2018.
---
Auburn Women's Gymnastics Coming to North Texas!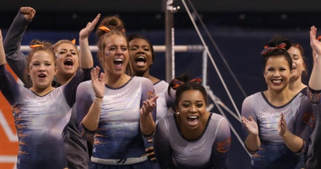 Auburn Women's Gymnastics come to Denton, TX on Feb. 11th at 2pm for a meet at Texas Women's University. Come support the Auburn Tigers in competition in nearby Denton. Tickets are $7, $5 for Senior's and your under 12 Children can attend with you for free. The Tigers are national ranked again this season and can use our local support. Please come cheer the Tigers to victory. WDE!
---

Prepare for Annual Tiger Giving Day on Feb 21st, 2018. This is a 24 hour program donate period for projects of your choice. Go to
www.tigergiving.com
and support annual giving by helping one of 20 programs at Auburn University. Pick a project and be a part of the Auburn Family. This program allows all of us to make contributions from the smallest to significant amounts. Every dollar counts and you can mark your contribution from the DFW Club area and get us recognition for supporting Auburn from our area. Everyone wins on Tiger Giving Day!
---

Support the Bruce Pearl Family Foundation by purchasing an AUT LIVE T-shirt and be part of the Auburn Men's basketball's fight against cancer. The best way to beat cancer is by early detection and fight it on your home court. Go to
AUTLive.com
and get yours today!
Shirts are $20 and proceeds benefit cancer patients and treatment centers in the Auburn area and the L5 Foundation in Knoxville, TN where Coach Pearl initiated the program in 2009 while coaching at the University of Tennessee.
Be part of the AUT LIVE family.
---
---

A huge milestone was met this week when the Auburn DFW Young Alumni Affiliate reached 450 members. This group is the fastest growing affiliate group in the Auburn family. Congratulations for such great support of the Auburn Spirt.
​This is just another story of what makes "This is Auburn" a special place.
---